This morning we implemented a hotfix to resolve a number of issues that were reported within Patch 0.308 "A Sugary Explosion." Here is a list of the changes that were made.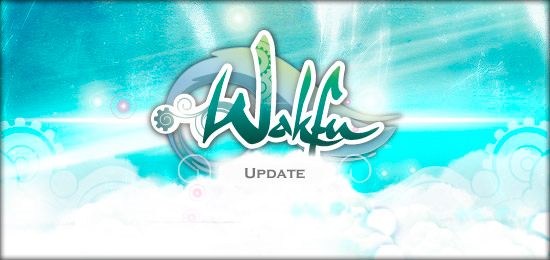 Bug Fixes
Iron can no longer be harvested in Astrub.
The TP at the Stoodeep Mines' Phoenix exit now has a valid visual.
It is now possible to leave the Wild Estate using a lifebelt.
The visual for the Rogue spell "Burning Bomb" has been integrated.
The description of the effects of Pandawa's "Bottomless Barrel" has been corrected.
Spelling mistake in "Bottomless Barrel" (French) now corrected.
The helm of the boat in the Thicket of Yurbut is now correctly placed.
The spell "Aggressive Barrel" now applies the "Dizzy" state to anyone who attacks the barrel.
"Barrel of Laughs" no longer displays the useless condition of one cast per turn.
Using "Triple Whammy" to push against an air bubble no longer causes visual desynchronisation.
Wells now appear in Brakmar Village, on the trade bridges and in Mourning Wood.
The visuals for the spells "Bash Barrel" and "Milk Fountain" have been adjusted.
Users will no longer receive untimely notifications of player connections/disconnections.
The gemlin visual no longer duplicates when it dies.
The "Ter Root Beer" object now has an icon.
The language chosen on the log-in page now saves correctly.
Correction of a freeze arising when managing trade display windows in Haven Bags.
The MP bonus for Bone Boots is now correctly applied.
Leadership is now correctly applied for the Boowish Hat.
The "Arson Fire Staff" now correctly displays "damage TO summons" not "damage BY summons."
The Sadida Ghostof no longer casts its Voodoll on allies.
Astrub Candy now drops correctly in the Brakmarstrub area.
The Panda Ghostof at the end of the 3 Pistes Dungeon now uses Pandawa spells correctly.
The effects of Pyrotechnist at level 0 are correctly described.
The effects of Boombot at level 0 are correctly described.
Rogue Image: damage reflected was not consistent with the spell's description.
"Pyrotechnist": the time boost on bombs can no longer be unbewitched.
"Hunter" works as normal again.
Bellaphone Seeds are now plantable.
The English translation of "Rogue" is correct.
The area of effect for Fleeches has been corrected, the Eca is no longer part of it.
"Pyrotechnist": the damage bonus for bomb combos now applies correctly.
You now need to be level 21 to equip the TruTru (Strich Set belt).
Blisskrieg applies "Dizzy" correctly.
The Brutish War Chief no longer attacks members of his group.
The Beastly Gobball casts "Stinky Breath" correctly each turn.
Striches, Bellaphones and Scaras "give birth" like the other ecosystem monster families.