The Top 10 Best Female Characters of E3 2021
Now that the dust has begun to settle following last week's E3 showcases, gamers worldwide are adding their most anticipated titles to their Steam wishlists and bookmarking for their favorite consoles. I've also been wishlisting like there's no tomorrow and felt it was my duty to draft the real summary of most anticipated games announced at E3. Though, it might be more fair to say it's my list of most anticipated games featuring female protagonists that I can't wait to play as or am already head-over-heels in love with.

Many of these women can step on me, much like Lady Dimistrescu from my recent article covering the step-to-scare ratio of Resident Evil: Village, but just as many of them can cuddle up with me on the couch on a cold winter night. Of course, not every single woman on this list has to be in love with me, we could also slay our enemies and conquer the world together, but we'll save the many fanfics I'm sure to write later for a different medium.

Jokes aside, it's always a heartening experience for me to see women represented in a diverse and multi-faceted light in the games we play. Some of the most iconic heroes I had growing up were female characters that proved I could be more than just a princess or damsel in distress. Seeing other women in games pick up a sword, gun, or wield the innate powers they possess to make a difference in their world, continues to inspire me to this day. This year's E3 gave us new leading ladies that are doing exactly that, and I'd love to take the opportunity to highlight some of the badass women we have coming up in the next year in gaming.

So let's do this!
10. The tall lady from Elden Ring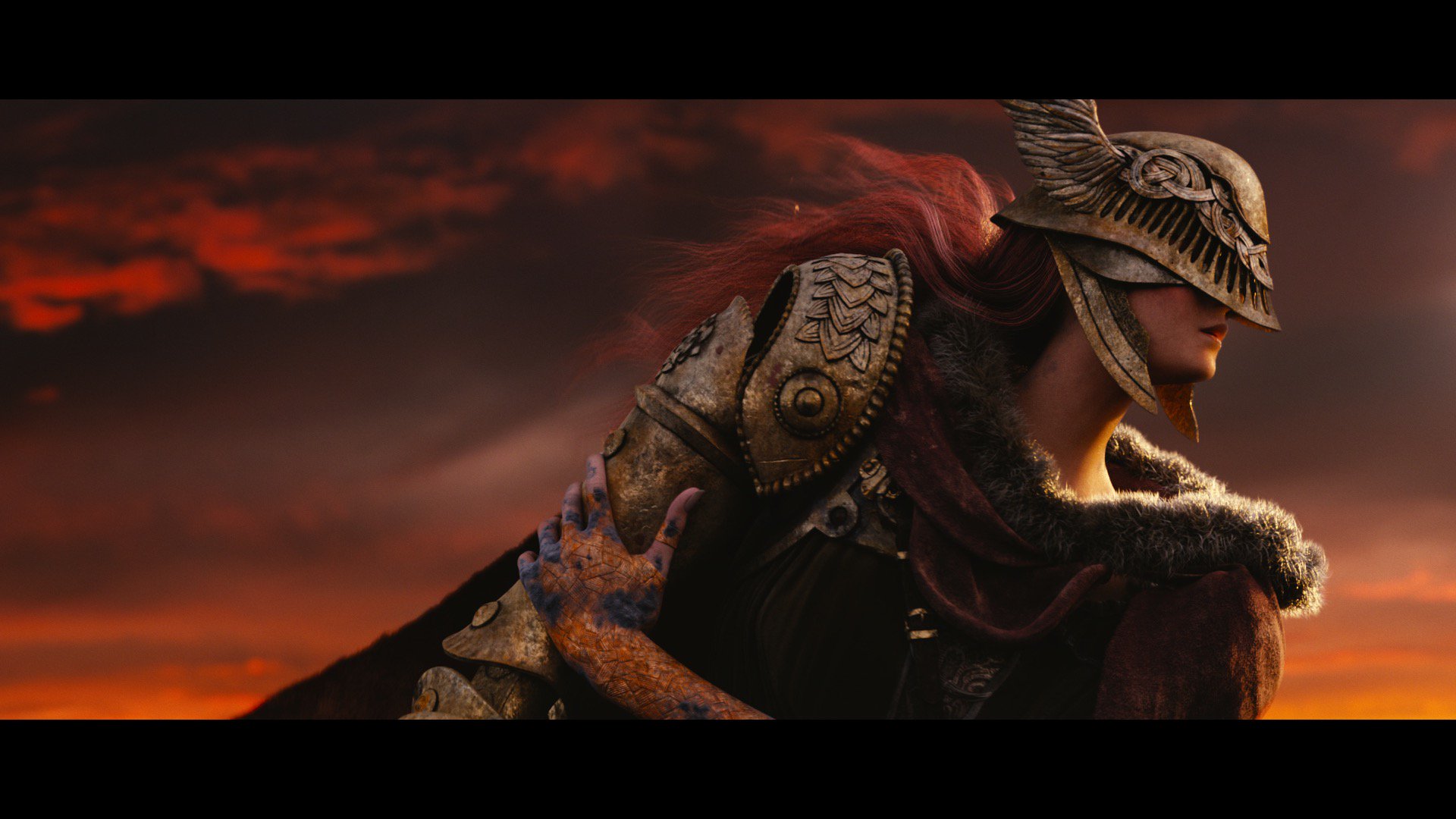 Image courtesy of the official Elden Ring Twitter account
Not much is known about her. She's tall. She has red hair. She's really good at impaling people. Still, not knowing much about a character has never stopped the internet before and it certainly won't now. While Elden Ring, the upcoming collaboration by FromSoftware and George R.R. Martin, featured a great deal of beautiful landscapes and intriguing combat in the new gameplay trailer showcased at E3, it was the tall lady that really got my specific corner of the internet buzzing. Fanart began cropping up left and right, proving yet again after Resident Evil's Lady Dimitrescu that tall, mysterious women with ominous presences are the future of attraction.
Elden Ring releases January 21, 2022 on PlayStation 4 & 5, Xbox One, Xbox Series X|S, and PC.
9. Player character from Bloodhunt
Image courtesy of Sharkmob
Joining the lineup of free battle royale games is the new title Bloodhunt, set in the Vampire: The Masquerade universe. The trailer shown during E3 featured a variety of customizable player characters, each one better than the last. Of particular note was the sword-wielding woman with an afro and glowing golden eyes that burned like embers into my very soul.
Unlike many of the other games on this list, there isn't a specific female character with a personal story in this world, but the amount of powerful ladies they showed in the trailer and on the website made me take note all the same. Players will be able to customize their characters and pick clan allegiances, adding a touch of the traditional Vampire: The Masquerade RPG feel to the game.

Bloodhunt will be coming to PC later in 2021, with a closed Alpha starting July 2nd. The game can also be wishlisted now on Steam.
8. Captain Kisara from Tales of Arise
Image courtesy of Bandai Namco's Summer Game Fest Trailer
I just love a good lady tank and Tales of Arise's Captain Kisara is looking like she could kick my butt all up and down any level in the game and I would thank her for it. While the cast lineup already has several female characters, it was the released footage of two additional companions during the Summer Game Fest and E3 that brought the JRPG Tales of Arise to my attention for the purposes of this list.

The Tales games are no strangers to having party members of different genders and backstories. In fact, the main campaign itself features both a male and female protagonist, but Captain Kisara definitely makes my heart go dokidoki in a special way. Unfortunately, the official website doesn't have a great deal more information about her character yet, but with her sword and shield in your party I'm sure players will be able to weather any threat.

Tales of Arise is coming September 10, 2021 to PlayStation 4 & 5, Xbox One, Xbox Series X|S, and PC.
7. Remi de la Rosa from Redfall
Image courtesy of Bethesda
Redfall came out swinging with not one but two fantastic female characters in the main lineup. Remi de la Rosa may not have been quite as featured as her counterpart Layla in the E3 announcement trailer, but the combat engineer still sports a fantastic design for both herself and her delightful robot companion named Bribón. She's described in the character breakdowns on the website as 'using her brilliant mind to protect her loved ones and help those in need around the world as part of an elite Navy rescue unit.'

I just feel extremely grateful to read the descriptions of Redfall's characters. A woman who's in possession of both a brilliant mind and years of experience in the Navy might not seem like it's all that groundbreaking, but so often characters get shoehorned into one particular niche and robbed of dimension. Not only is Remi's jaw sharp enough to cut glass, but apparently her intellect is too.

Redfall will be an Xbox Series X|S exclusive also coming to PC in summer 2022 and will be available with Game Pass day of release.
6. Senua from Senua's Saga: Hellblade II
Image courtesy of Xbox
First off, let me say that the only reason Senua is so far down the list is because the announcement for Senua's Saga: Hellbade II came during the post-E3 Xbox Games Showcase Extended on June 17th and was more a brief talk about developer Ninja Theory's early game design and focus than it was a true announcement trailer for the game. However, if you have yet to play the original Hellblade: Senua's Sacrifice and think you can handle the dark themes, just go do so right now. I'll wait.

Done? Great. Senua is by far one of the most intriguing, risky, and intelligently designed female characters of the past five years. Ninja Theory worked closely with both professional consultants and people with lived experiences to create a thoughtful depiction of psychosis within the context of a video game. Players are immersed in the mental landscape of Senua- a woman who is both mentally ill and a hero- who overcomes challenges of the spiritual and physical worlds while battling her way through the Orkney Islands in the late 8th century.

While there's been a great deal of discussion surrounding the ways in which Hellblade both excels at and could expand upon the scope of their immersive dive into the experience of trauma and psychosis, it is undoubtedly a brave game that attempts to tackle difficult subject matter with grace and actual research. I have high hopes that when the sequel arrives, we'll likewise have another unforgettable gaming experience well worth exploring.

Senua's Saga: Hellblade II has no anticipated release date yet, but was announced as eventually being available on the Xbox Series X|S and likely PC.
5. Alex Chen from Life is Strange: True Colors
Image courtesy of Square Enix
The Pandemic hit hard in more ways than one. Many of us are still grappling to confront a reality that's shown us that shared public responsibility for others' wellbeing is often utterly ignored and even publicly scorned due to a lack of education, empathy, and understanding in our nation. Amidst health concerns and changes to our everyday lives, there's been a rising awareness of movements such as Black Lives Matter and Stop Asian American Pacific Islander (AAPI) Hate , which have led to much-needed discussions regarding the ways in which communities of color have confronted this reality for generations.

All of this to say, I love Alex Chen from the upcoming Life is Strange: True Colors. Not only is she a timely character that's bringing an AAPI protagonist to the forefront of a beloved franchise, but she's also a character focusing on what we need most to embrace human rights issues and strengthen our ability to connect with the plight of others: empathy. While Alex's powers have been criticized in certain circles as being underwhelming compared to the franchises' previous protagonists' gifts of time travel or telekinesis, I personally have always found empathy to be a profound skill.

Emotions drive every human being on this planet, and if someone can unravel the motivations that compel others, the potential for deeply resonant narratives and nuanced character development is unparalleled. I can't wait to see what she brings to the franchise and to players who may need to be reminded of the common humanity that we all share.

Life is Strange: True Colors releases September 10, 2021 on PlayStation 4 & 5, Google Stadia, PC, Xbox One, and Xbox Series X|S.
4. Lady Marguerite Hellbender from Marvel's Guardians of the Galaxy
Image courtesy of Square Enix
Square Enix showcased a great deal of footage from their new Marvel's Guardians of the Galaxy game during their announcements. Some might even say, too much footage. Still, the game is looking to be a rollicking space adventure that lives up to the Guardians' unique vibe and sense of humor.

While Gamora definitely deserves a shoutout, it was Lady Hellbender's powerful arms and watermelon-crushing thighs that really made this next Marvel game stand out to me. Man, she can just wear a leotard like nobody's business, and her love of animals is definitely a bonus too- never mind her bloodthirsty, domineering personality. Or maybe do mind it if that's what you're into. You do you.

It's just refreshing to see a female villain that isn't slinking around in a wisp of a dress trying to seduce anyone with half a braincell. Not that there's anything wrong with that, but the amount of lady villains that get to be powerful and physically imposing is rare without it being made into some kind of joke about their physique or perceived masculinity.

Marvel's Guardians of the Galaxy releases October 26, 2021 on PlayStation 4 & 5, Xbox One, Xbox Series X|S, PC, and Nintendo Switch.
3. Amicia de Rune from A Plague Tale: Requiem
Image courtesy of Focus Home Interactive
Amicia de Rune may be familiar to those players who've set foot in the grim, medieval world of A Plague Tale: Innocence, but she's returning and looking fiercer than ever in the upcoming sequel A Plague Tale: Requiem. Amilia's a character that's refreshing in many ways, but especially due to the traits she possesses that many beloved male protagonists are given without a second thought. At the start of the original, she's a headstrong, impetuous, brash, and self-absorbed young woman. She craves adventure, but ultimately learns that her responsibility to her brother and the family she's lost will pave the way for her to learn to prioritize others over herself.

Besides the great characterization established in the first game, just look at her. Those smoldering eyes, determined stare, powerful eyebrows, and scarred face absolutely get me. Not only do the overall graphics in the trailer appear to be phenomenal, but the shot of her face alone conveyed so much about her resolve and growth from the original game to the sequel. The trailer also featured several other intriguing women that I'm looking forward to learning more about.

I can't wait to be emotionally devastated by A Plague Tale: Requiem, coming in 2022 for PlayStation 5, Xbox Series X|S, PC, and Nintendo Switch.
2. Mina "Thunderbird" Sky from Tom Clancy's Rainbow Six Siege
Image courtesy of Ubisoft's North Star Story Trailer
I never thought Rainbow Six would make it to the top of this list, but here we are. Tom Clancy's Rainbow Six Siege is a game I've watched various friends play with passing interest, but I'll be completely honest in saying that shooters with a contemporary warfare setting don't typically do it for me. Or at least they didn't until I saw the E3 announcements regarding the latest operator being brought to the field: Mina "Thunderbird" Sky, who was showcased at E3 in the North Star cinematic trailer.
One viewing of her story trailer and suddenly I was very interested in Rainbow Six.

Born in the Nakoda territories in Canada, Mina's profile on the Rainbow Six Siege website describes her as 'an accomplished medical officer, aviation mechanic and pilot' with an understanding of the 'importance of community.' Ubisoft actually collaborated with consultants from the Nakoda nation to better represent her heritage and culture, which they detailed further in this video. I absolutely adore their attention to detail in both her character and the animated short they released.

I don't know if the addition of Thunderbird will get me to start playing Rainbow Six, but I can tell you that I've watched that trailer at least ten times now and can't get enough of the designs and animation. Anybody else start shipping Thunderbird/Nomad when they watched? No, just me? Right well, anyway…

The North Star expansion was released during E3 on June 14, 2021 for Tom Clancy's Rainbow Six Siege, allowing players to take to the skies as Thunderbird herself.
1. Layla Ellison from Redfall
Image courtesy of Bethesda
Arkane Austin announced their upcoming open world co-op shooter, Redfall, as the crowning piece of the Xbox/Bethesda showcase. The moment I heard Arkane, I was hoping we might see another RPG in the vein of Dishonored coming from the studio, but five seconds into watching the trailer, I was sold. This was largely thanks to our number one most anticipated female character from E3 2021: Layla Ellison.

Layla stunned viewers with her detailed character model and beautifully rendered, naturally textured hair (a detail you'd think we'd see in more games and character creators). Further information on Bethesda's website reveals that Layla was previously a student at Redfall Technical University focusing on biomedical engineering. Women in STEM, you love to see it! When a mysterious accident occurred at Aevum Therapeutics where she was interning, she was knocked out and woke up later with a supernatural hangover that just so happened to come with telekinetic powers.

Arkane Studio's work shows that diverse design and memorable characters are paving the way for representation in gaming. The studio's previous five releases have all featured female characters and/or characters of color and have done so in a way that feels utterly organic. Telling compelling stories for people of all genders and races isn't a herculean feat; it's simply a more truthful reflection of the diverse world we live in.

Currently, Arkane Lyon is in production on Deathloop, coming in September of this year, which also features male and female player characters of color. Previously, the studio released Wolfenstein: Young Blood, featuring female protagonists, Dishonored: Death of an Outsider which sports a black female lead, Prey which has a customizable first-person character named Morgan Yu, and Dishonored 2, a that allows players to step into the iconic boots of Emily Caldwin (who can and should step on me). Long story short- they're killing it. I can't wait to see what fantastic female characters Arkane Studios give to us with Redfall and beyond.

Redfall will be an Xbox Series X|S exclusive also coming to PC in summer 2022 and will be available with Game Pass day of release.