Final Fantasy XIV Producer and Director Naoki Yoshida helps to bring in the new year as he did last year, and the year before that, etc. with a short letter for 2020 which includes a new message, this time, taken from a history tome found in the Crystarium's Cabinet of Curiosity.
Hello, this is Producer and Director Yoshi-P, wishing all of you Warriors of Light a Happy New Year!

2019 was an incredibly important year for us, as our third expansion, Shadowbringers, saw the player experience and overall quality of the game improve by leaps and bounds. This would never have been possible without the devotion and continued support of you─the Warriors of Light─so I'd like to take this opportunity to express my gratitude.

Over the last year, I've had even more chances to travel overseas, and from meeting players around the world and taking part in interviews, I've really gained a sense of how much FFXIV has grown. The second orchestral concert was held in Japan, while we had Fan Festivals not only in North America, Europe, and Japan, but China and South Korea as well, so there's been a lot going on, both inside and outside of the game.

Although everyone in the development and operations teams has been taking time off over New Year, the 5.X series is proceeding apace. Patch 5.18 was released at the end of the year, and most of 5.2 is now ready. From the start of this year, we'll be carrying out adjustments and testing for bugs before releasing Patch 5.2, "Echoes of a Fallen Star," planned for mid-February.
To bring a close to the critically acclaimed Shadowbringers, Patches 5.2 and 5.3 form two halves of a single chapter. There are lots of surprises in store for the first half, so please look forward to it!

Speaking of surprises, I found a bizarre note on my desk, although its true meaning remains something of a mystery…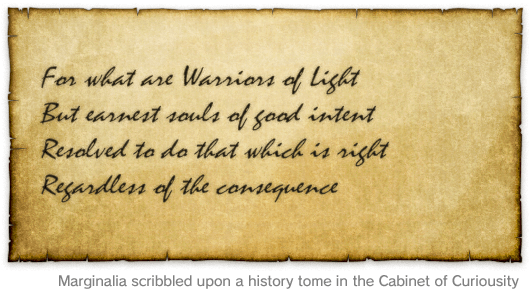 It seems this was found hidden in the Crystarium's extensive library, but is this historic fact or some sort of prophecy?

We're now entering the tenth year since the release of the original FINAL FANTASY XIV. It's also been ten years since I first became involved with the project. As we step into a new decade, you can be sure there will be an amazing Fan Festival to mark the occasion, and we'll be working our socks off to bring you more epic adventures.

Here's to a great 2020! Happy New Year!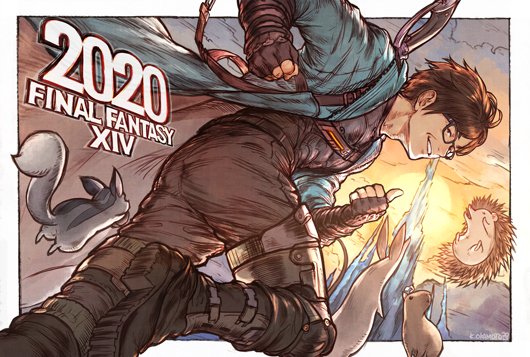 FINAL FANTASY XIV PRODUCER/DIRECTOR
Naoki Yoshida