As most everyone who has been following the development of A Realm Reborn, at this year's E3 Square Enix was giving away a "Meteor Survivor" polo shirt to anyone lucky, or skilled, enough to defeat the Ifrit battle.  In case you missed, you can check out Yoshida himself participating in the battle on Day 2.
Well, in addition to beating Ifrit ourselves (or at least one of us did), we also secured two additional shirts to give to our community!  But, while we were happy with that… it wasn't enough!  So we got them signed by Yoshida-san himself.  In addition to the shirts we have the stickers they were giving out, and one of the over-sized tote bags too!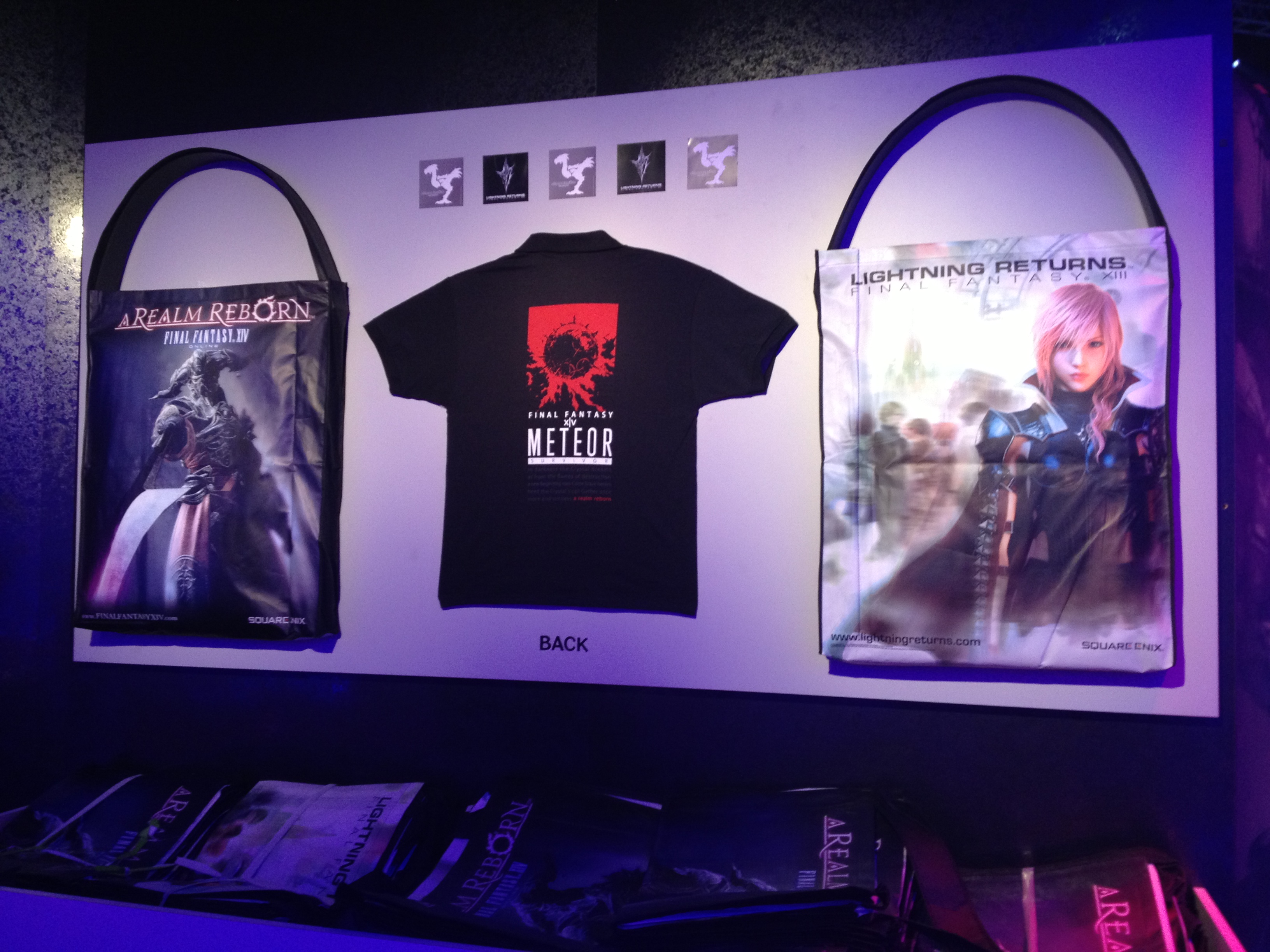 So we will have two prize packages up for grabs.  As we mentioned in the past, one benefit of being a Supporters is access to some contests and giveaways – and we are really excited for this to be the first time when we can give a little bit back to those that have supported us!  But we also feel strongly that everyone should be eligible to win one of these shirts!  So… one of the packages will be a Supporter exclusive, and the other one can be won by anyone.
If you believe that you qualify as a Supporter (i.e. from wiki edits or a subscription or donation) but are not listed on our Supporter page, then contact us before the end of the contest.
| Package 1 | Package 2 |
| --- | --- |
| Eligibility: Everyone | Eligibility: Supporters |
| Prizes: Polo + Tote bag + Sticker set | Prizes: Polo + Sticker set |

Want to know how to win one of these incredible packages?  Well, we're making it easy.  Really, really, easy.
Just fill out the form below.
No really.  That's it.  Maybe if you win you'll be kind enough to post a picture and tweet it at us or something.  Without further ado… Goodluck!
Some Rules and Information
The entry period is between the time of this post and July 14, 2013 at 11:59pm EDT.
Rule #1: We will contact winners via PM on our forums.  If we do not hear back from winners within 48 hours of contacting them their prize will be forfeited.  We suggest that you ensure that your forum account has an active and working email address and receives notices of PMs.
Rule #2: You can enter only once (i.e. no sockpuppets)!  If we suspect you of cheating and creating sockpuppet accounts you will be disqualified.
Rule #3: You can only win once.
Legalities
To the fullest extent permitted by law, Gamerescape and Telatexo LLC shall have no liability, howsoever arising, in relation to this contest or the prize, including without limitation liability in respect of personal injury and/or any loss or damage to property. Terms & Conditions: No purchase necessary. The prizes are as stated and cannot be modified. There are no alternative prizes or cash substitutes. Any decisions to disqualify any entrant by Gamerescape and/or Telatexo LLC are final and not subject to appeal or review.