We deployed a second hotfix to resolve a number of issues that were reported within WAKFU Content Update 1.1. Here is a list of the changes that were made.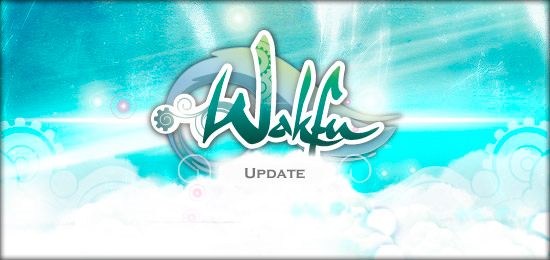 Character Classes
Sram
Sram animations should now trigger correctly when invisible.
Combat
From now on, only 6 characters will be able to join in a fight on one side (however, monsters can still be 8, as it was before).
World bosses are now immune to Madness, Stunned, Sleepy, Zombification, Blindness and Bound states.
Professions
Fishing rates now display correctly in the profession interface.
Items
The Moowolf set becomes the Milimoowolf set.
A new Moowolf set was placed on Moowolf.
Dragolyre can no longer be dropped in the Elite dungeon.
Crobak Bow was changed back to its right craft level: 70. Same goes for the Prickel Ring, now level 65.
Damages bonus from wearing the Wild Gobball Set are now Earth element.
Quantity of common resources now adapts to the amount of players in the team (less drop in solo than multi).
It is now possible to drop up to 2 keys per monster.
Recipes including Quaint Silver Ore and Luminous Lead Ore have been changed:

Crobak Dagger Recipe : 40 Luminous Lead Ore → 65 Rugged Quartz
Sacred Ring Recipe : 45 Luminous Lead Ore → 70 Rugged Quartz
Forgiveness Bow Recipe : 8 Luminous Lead Ore → 30 Hazy Lead
Titanic Crown Recipe : 8 Quaint Silver Ore → 40 Hazy Lead
Dreamy Blade Recipe : 22 Quaint Silver Ore → 65 Wholesome Zinc
Boowolf Silcer Recipe: 20 Quaint Silver Ore → 60 Wholesome Zinc
Brutal Tiara Recipe: 42 Quaint Silver Ore → 92 Hazy Lead
Bluestar Sword Recipe: 60 Quaint Silver Ore → 102 Rugged Quartz
Iron Cross Recipe: 20 Quaint Silver Ore → 30 Hazy Lead
Nunnish Doily Recipe : 49 Quaint Silver Ore → 79 Wholesome Zinc
Haven Bag
Fixed a bug that could lead to item loss after manipulating inside the chest of the Haven-Bag.
Haven-Gems drop has been decreased: Deco Haven-Gem from 3% to 1%. The three others Haven-Gems from 1% to 0.01%.
Audio
Cracklers now produce sound.
Note:
Names used within this hotfix note are subject to change.